The Merton Priory Team Ministry
Welcome to the website of the Parish of Merton Priory in South Wimbledon, London SW19.

The Merton Priory Team Ministry is committed to promoting the Gospel of Jesus Christ according to the doctrines and practices of the Church of England. We are guided by our mission statement, agreed in 2011:


In Merton Priory Team Ministry we aim to be a community
Faithful to God
Sharing with those in need
Caring for one another


The Merton Priory Team consists of three churches:


Christ Church, Colliers Wood
St John the Divine, Merton
Holy Trinity, South Wimbledon


Safeguarding and care of children
The parish of Merton Priory takes the safeguarding and care of children and vulnerable adults very seriously. Further information about this can be found on the Safeguarding page.

Annual Report for Merton Priory Team Ministry, 2018
The document containing the Annual Report and Financial Statements for 2018 is here. It was published after the Annual Parish Church Meeting in April 2019.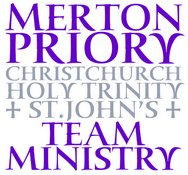 Merton Priory PCC charity number is 1134253